Hollywood
Jump to navigation
Jump to search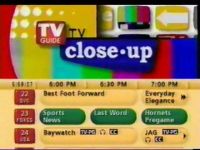 The TV Guide Channel software (internally named Hollywood) was used to power the TV Guide Channel following mid-2000 through late 2019. Like PC Prevue, this iteration ran off of Windows. The software began development in 1997 and was released in July of 1999 shipping with a tan guide, reminiscent of the firmware on various Motorola cable boxes, though progressed to various mostly color schemes over the next few years. Notices posted by various channels and cable companies indicate in 2019 that the network has discontinued the scrolling guide in all instances and no longer provides a data feed for these units.
As of 2020, the Hollywood software has been recovered by various community members and is in the process of being recovered. An installation guide can be found here for Hollywood.
Hardware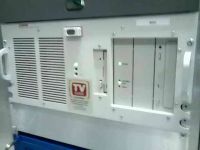 The Hollywood units were initially manufactured by Compaq and based on the Professional Workstation SP700. These units vary from different specs of each individual machine. The following list is based upon speculation:
Microsoft Windows NT
Pentium II 440MHz
STB Systems STB 1X0-0751-407 (Tulsa) Video Card
262 MB RAM
9-34 GB SCSI HDD
32X CD-ROM
3½-inch floppy drive (for playlists)
While some units were shipped with Windows NT, some speculated that later machines shipped with Windows XP.
STB Systems, Inc built a custom card for these units, which they referred to as the TULSA. The card was designed for real-time mixing of video and graphics in a broadcast-quality manner. The card's functionality included an MPEG-2 decoder, composite video encoder/decoder, video genlock decoder, two graphics accelerator ICs, an 8-bit alpha video mixer, and audio pass-thru. Since this card is important for Hollywood to run in hardware mode, as of February 2021, nobody has been able to get it to work under a virtual machine. The only way to get around this is by installing it under Software Mode.
Software
The Hollywood software was built with the STB TULSA in mind, and as such is paramount for the software to run properly at all. Despite this, the software also allowed for a software-only mode, which restricted a lot of its features, including its scrolling capabilities, in a similar fashion to PC Prevue. For storing its data, the software relied on SQL Server 7.0 for listings, the guide's theme, and weather conditions.
External Links
Wyantotte Cable retires scrolling guide listings
SKT Cable: Pop discontinues Hollywood units and scrolling listings